30th December
The Guardian: Migration: politics of fear
28th December
Novinite.com: Britain Panic Stricken over Bulgarian, Romanian Immigrants 
28th December
PressTV: UK PM urged to soften tone on migration
28th December
ConservativeHome: The uber-modernisers should show the Conservative Party a little bit of love
28th December
The Huffington Post: David Cameron Warned To Stop 'Pandering To Ukip Prejudices' And Soften Tone On Immigration Threat
27th December
The Guardian: David Cameron 'must stop pandering to Ukip prejudices'
27th December
The Independent: David Cameron urged to soften tone on immigration
18th December
The Independent: Michael Gove leaves door open for expansion of grammar schools
23rd November
20th November
The Spectator: Nick Boles is right: the Tory party must change
Conservative Home: The courage of Nick Boles
19th November
The New Statesman: Nick Boles calls for new National Liberal-Conservative alliance
18th November
Conservative Home: The case for free school co-operatives is set out by Steve Baker
14th November
Times Higher Education: Universities must not repeat music's costly online errors
6th November
Conservative Home: The best way to help poorer workers is to cut their tax bill
5th October
The Spectator Blog: Get a sense of humour: the Tories and coalition
2nd October
The Guardian: Conservative conference: Ukip and Thatcher give David Cameron a headache
30th September
The Times: Tories and UKIP can strike deal, says Farage [Front Page] (directly quotes our magazine article)
The Week: Who's writing Tory manifesto? David Cameron or Nigel Farage?
Platform10: Nick's Fringe Podcast - #CPC13 Monday [Audio]
The Guardian: Conservative party: raising the mental drawbridge
29th September
The Observer: Anxious Tories look to halt the Ed Miliband bounce
The Telegraph: David Cameron rules out mansion tax
Platform10: Nick's Fringe Podcast - #CPC13 Sunday [Audio]
27th September
The Times Diary (TMS): Who let McBride in? Up guards and at 'em, art attack and horses play
11th September
The Telegraph: Lynton Crosby still has to teach the Tories how to speak about welfare
4th September
The Independent: Tories could raise minimum wage in effort to dispel their image as the 'party of the rich'
27th June
The Independent: Wait for benefits could backfire, warns Tory ally
30th May
Cicero Consulting: In Conversation...with Ryan Shorthouse (video)
14th May
Total Politics: David Willetts on today's 'difficult process for Tories'
4th May
The Independent: Local elections: Tories in civil war as Ukip glory puts David Cameron under pressure
20th April
The Economist: Divided Kingdom
3rd April
The New Statesman: What does it mean to make work pay?
30th March
The New Statesman: Postgraduate funding is an inequitable mess and we urgently need to fix it
27th March
ConservativeHome: What is causing the stagnation of wages? Matthew Hancock MP sets out a Tory agenda for the low-paid.
25th March
The Independent: David Cameron accused of 'scaremongering' as new crackdown on immigration unravels
24th March
The Telegraph: Michael Gove the cabinet winner in poll of Tory members
19th March
Platform 10: Why leaning in is part of a Conservative equalities agenda
18th March
Total Politics: How to become leader of the Conservative Party
4th March
Conservative Home: Roger Scruton versus the post-modern Conservative Party
21st February
19th February
Progress: It was acceptable in the 80s
7th February
The New Statesman: Reviewed: Tory Modernisation 2.0 edited by Ryan Shorthouse and Guy Stagg
The Independent: David Cameron has won battle on gay marriage - but not the war, Tory MPs warn
Times Higher Education: Promises, promises: main parties start to look to 2015
5th February
The Huffington Post: Gay Marriage: Has Outcry Set Back Cameron's Tory Modernisation?
4th February
The Guardian: Can David Cameron see off the Tory troublemakers?
The Guardian: If profit-making schools are the answer, what's the question?
22nd January
The Guardian: These Tory backbenchers will bang on until they hit self-destruct
19th January
ConservativeHome: What the Tory modernisers did next
17th January
Total Politics: All Mod Conservatives
16th January
Daily Mail: Expand villages by a third and allow extensions without planning permission 'to solve homes crisis'
The Economist: Tory modernisation 2.0. Another round of renewal [Video]
Planning Resource: Tory modernisers press for further planning reform
Times Higher Education: Tory 2.0 plans: undergrads can pay for postgrads
Local Government Chronical: News round-up 16/1
Teaching Personnel: Conservative group advocates for-profit state schools
Platform10: Conservatives: Past, present and future
11th January
ITV News: Teachers' union response on failing schools
10th January
The Independent: Revealed - Tory plan for firms to run schools for profit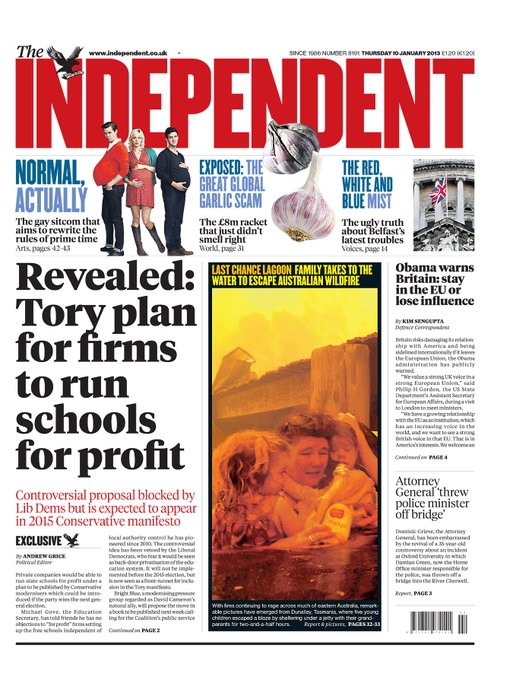 The Telegraph: Conservatives should be the party of the low paid, minister says
Children & Young People Now: Daily roundup: Profit-making schools, help to stop smoking, and preparing young people for work
The New Statesman: How academies covertly select pupils
The Huffington Post: Mehdi's Morning Memo
The Economist: Tory modernisers are launching a renewed campaign. It is overdue
The Telegraph: Private firms could be allowed to run schools
2nd January
Platform10: Change to win v2.0
1st January
The Guardian: David Cameron, the pragmatic mod, should beware his party's rockers